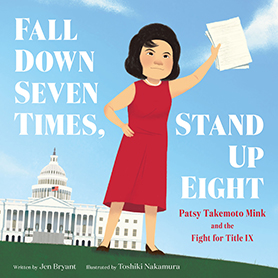 Fall Down Seven Times, Stand Up Eight: Patsy T. Mink and the Fight for Title IX by Jen Bryant
Summary: At an early age, Patsy Takemoto Mink learned that working toward a goal could come with challenges. But she never gave up. As the Japanese proverb says, fall down seven times, stand up eight. That spirit helped Patsy throughout her life. She wanted to become a doctor, but medical schools refused to admit her because of her gender. So … Patsy carved her own path. She went to law school, ran for a seat in the United States Congress, and helped create Title IX, the law that requires federally funded schools to treat boys and girls equally. Although many people tried to knock her down, Patsy always got up again. She was a historic trailblazer who championed equal rights and helped create a better future for all Americans.
Patsy Takemoto Mink spent her life pushing back against racism and sexism – but she never let the opinions of others stop her. Using the proverb of the title as a refrain, Jen Bryant's snappy text is upbeat and affecting, depicting how Mink came back from heartbreaking losses again and again. Medical schools wouldn't accept her? Then she'd go to law school. Law firms wouldn't hire her? Then she'd open her own. Politicians said someone like her would never make it to Congress? She'd prove them wrong, becoming the first woman of color in Congress, serving a total of 12 terms in the House of Representatives, and co-authoring Title IX, a law that would blast open opportunities for women in education and sports. Tashiki Nakamura's digital illustrations sing with color and movement, reflecting the subject's indomitable spirit. Accessible and engaging, this picture book biography is a must for any young reader's shelf of inspirational figures.
Fall Down Seven Times, Stand Up Eight: Patsy T. Mink and the Fight for Title IX is out now!
Watch this space for an interview with Jen Bryant about this book later this week!