Less than 2 weeks left until the publication of Sword and Verse, and I have more good news to share!
Foreign Rights
Sword and Verse will be published in Spanish by Penguin Random House and in Turkish by Pegasus Publishing!
Sample Chapters
Did you know that you can read the first 9 chapters of Sword and Verse for free at EpicReads?
Giveaways
Enter by January 10 to win one of 10 advanced reader copies of Sword and Verse being given away by EpicReads! (US and Canada only)
Enter by January 16 to win a signed advanced reader copy at Literary Rambles (US and Canada only)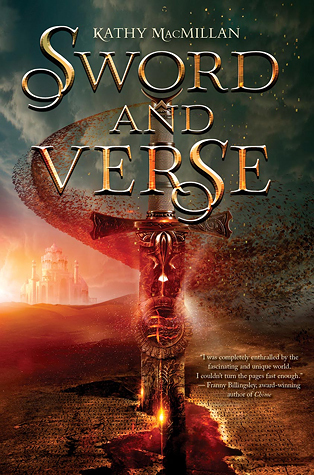 Preorder Incentive
Preorder Sword and Verse in hardcover, ebook, or audiobook and receive a special personalized gift: your name written in the language of the gods and a letter from the main character!  (Open internationally.)  Ten lucky winners will also be selected to receive handmade personalized Sword and Verse bookmarks! Click here for more information.
Launch Day Event
January 19, 2016 from 7:00 pm – 8:30 pm at Carroll County Public Library, Finksburg Branch (2265 Old Westminster Pike, Finksburg, MD 21048.  Phone: 410.386.4505)
Join us for a reading, signing, refreshments, and a screening of the winning entries in the SWORD AND VERSE trailer contest. Open to all!  For more information, see http://library.carr.org
Writer-Focused Event
Writers: Let's Talk Revision
Thursday, January 21 at 7 PM
Baltimore County Public Library, Cockeysville Branch
9833 Greenside Drive
Cockeysville, Maryland 21030-2188
From first draft to final copy, a novel goes through many stages of change. Join Kathy MacMillan, author of Sword and Verse (HarperTeen, 2016), and Manuela Bernardi, the book's betareader, for a frank discussion of feedback and how it shapes the revision process. Copies of the book will be available for purchase and signing after the program. This program is co-sponsored by Baltimore County Public Library and the Society of Children's Book Writers and Illustrators MD/DE/WV Region. Please RSVP at http://mddewv.scbwi.org/ by January 19.
Sword and Verse Gala
Tickets are on sale now for the Sword and Verse Gala on January 22, 2016, an elegant dinner and book signing event to benefit Deaf Camps, Inc.